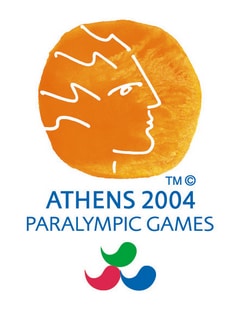 SEPTEMBER 17TH – 28TH 2004
ATHENS/GREECE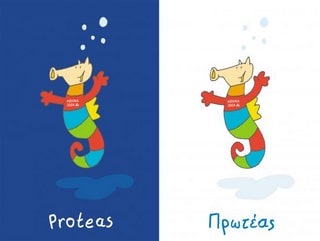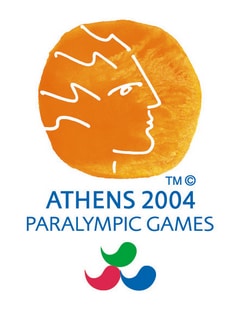 SEPTEMBER 17TH – 28TH 2004
ATHENS/GREECE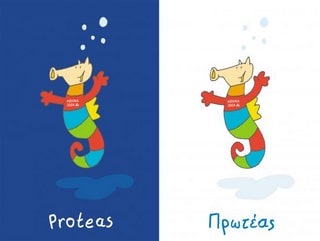 3,808 athletes (1,165 women / 2,643 men) from 135 countries
3,103 media representatives
Judo, soccer 5-a-side & women's sitting volleyball for the first time Paralympic disciplines
Medal count Austria:
44 Austrian athletes (4 women and 40 men)
23 medals (8 gold, 10 silver and 5 bronze)
National ranking: 20th place
Chef de Mission for Austria:
3,808 athletes from 135 nations competed in Athens from September 17th – 28th, 2004 in the following sports: bocce, archery, soccer 5-a-side, soccer 7-a-side, weightlifting, goalball, judo, track and field, cycling, equestrian sports, wheelchair basketball, wheelchair fencing, wheelchair rugby, wheelchair tennis, shooting, swimming, sailing, sitting volleyball and table tennis. Austria competed in bocce, athletics, cycling, equestrian sports, wheelchair tennis, shooting, swimming and table tennis.
The XII Summer Paralympics were a real spectator magnet, around 850,000 viewers watched the 519 medal events live on site and around 1.85 billion viewers followed along at home in front of their TV sets. Paralympic athletes broke 304 world and 448 Paralympic records. In addition, 3,103 accredited media representatives reported from the Paralympics in Athens.
The Paralympic Team Austria was led into the stadium at the opening ceremony by swimmer Janine Schmid, who acted as flag bearer. At the closing ceremony, this honor was given to the track and field athlete and 5-time medal winner, Thomas Geierspichler.
The 44-strong red-white-red team won 23 medals (8x gold, 10x silver, 5x bronze) and ranked 20th in the medal table. From an Austrian perspective, these Paralympics were the most successful summer Paralympics to date and far exceeded all expectations and forecasts.
The most successful Austrian athlete was track and field athlete Thomas Geierspichler with 1 gold medal, 3 silver medals and 1 bronze medal.
Of course the medal winners were in the center of attention, but the performances of those athletes who came home without a medal must also be mentioned – they all gave their best. Without a strong team of trainers and coaches, as well as without sponsors, these successes would not be possible. All together form the "Success Team AUSTRIA".
These games were not only the most successful Paralympics on an athletic level, but were also highly successful in terms of reporting, since the coverage in Austria was as extensive as never before concerning the summer games.
No matter if it concerns the coverage on TV (ORF), radio or print media, there was a huge increase compared to earlier times. This shows that the media have also recognized that disabled sports do not belong in the "social corner", but that the Paralympics are top-class sports.
Further information at: https://www.paralympic.org/athens-2004
Medal table Paralympics ATHENS 2004
| | | | |
| --- | --- | --- | --- |
| 09/18/2004 | Hubert Aufschnaiter | P1 air pistol 10m | Bronze |
| 09/19/2004 | Wolfgang Eibeck | TrackTrack | Bronze |
| 09/19/2004 | Thomas Geierspichler | SuperG | Silver |
| 20.09.2004 | Andrea Scherney | Long Jump | Gold |
| 09/21/2004 | Stanislaw Fraczyk | Table tennis | Gold |
| 09/21/2004 | Hubert Aufschnaiter | Sport pistol 25m | Silver |
| 09/22/2004 | Thomas Geierspichler | LA400m | Bronze |
| 09/23/2004 | Thomas Geierspichler | LA1,500m | Gold |
| 09/23/2004 | Dennis Wliszczak | High jump | Bronze |
| 09/24/2004 | Johann Mayrhofer | Handbike Street | Gold |
| 09/24/2004 | Georg Tischler | Sphere | Gold |
| 09/24/2004 | Willibald Monschein | Sphere | Silver |
| 09/24/2004 | Rene Black | Sphere | Silver |
| 09/24/2004 | Christoph Etzlstorfer | Handbike Street | Bronze |
| 09/25/2004 | Thomas Geierspichler | LA-800m | Silver |
| 09/26/2004 | Thomas Geierspichler | LA Marathon | Silver |
| 09/27/2004 | Christoph Etzlstorfer | Handbike Time Trial | Gold |
| 09/27/2004 | Wolfgang Eibeck | Rad-Straße | Gold |
| 09/27/2004 | Bill Marinkovic | Spear | Gold |
| 09/27/2004 | Johann Mayrhofer | Handbike Time Trial | Silver |
| 09/27/2004 | Wolfgang Dabernig | Rad-Straße | Silver |
| 09/27/2004 | Stanislaw Fraczyk/Rene Gutdeutsch | Table tennis team | Silver |
| 09/27/2004 | Wolfgang Dubin | Sphere | Silver |
All results Paralympics ATHENS 2004
| | | | |
| --- | --- | --- | --- |
| BOCCIA | | | |
| Gahleitner/Grossmayer/Prossegger/Steirer | | Team – BC1-2, Mixed | 5 |
| Gahleitner | Gerhard | Individual – BC1, Mixed | 9 |
| Grossmayer | Harold | Individual – BC1, Mixed | 4 |
| Prossegger | Eva Maria | Individual – BC1, Mixed | 9 |
| Styrians | Hubert | Individual – BC2, Mixed | 9 |
| ATHLETIC | | | |
| Dubin | Wolfgang | Bullet F36, men | DSQ |
| Dubin | Wolfgang | Discus F36, men | 6 |
| Eitzinger | Bernhard | Javelin F35, men | 9 |
| Eitzinger | Bernhard | Discus F35, men | 8 |
| Eitzinger | Bernhard | Bullet F35, men | 10 |
| Ferchl | Gottfried | Marathon T54, men | 25 |
| Ferchl | Gottfried | 800m T53 men | 11 |
| Gaggl | Stefan | 100m T46 men | 5 |
| Gaggl | Stefan | 200m T46 men | 7 |
| Geierspihler | Thomas | Marathon T52, men | 2 |
| Geierspihler | Thomas | 800m T52 men | 2 |
| Geierspihler | Thomas | 1500m T52 men | 1 |
| Geierspihler | Thomas | 400m T52 men | 3 |
| Geierspihler | Thomas | 5000m T52 men | 2 |
| Linhart | Michael | 100m T44 men | 9 |
| Linhart | Michael | 200m T44 men | 10 |
| Marinkovic | Image | Javelin F11, men | 1 |
| Marinkovic | Image | 100m T11 men | 16 |
| Marinkovic | Image | Long jump T11 men | 10 |
| Mayer | Robert | 100m T44 men | 7 |
| Mayer | Robert | 400m T44 men | 7 |
| Monshine | Willibald | Discus F12, men | 11 |
| Monshine | Willibald | Bullet F11, men | 2 |
| Scherney | Andrea | Bullet F42-46, women | 5 |
| Scherney | Andrea | Discus F42-46, women | 9 |
| Scherney | Andrea | Long jump T44/46, women | 1 |
| Schmee | Dietmar | Bullet F44/46, men | DNS |
| Blacksmith | Evelyn | Discus F54/55, women | 9 |
| Blacksmith | Evelyn | Ball F54/55, women | 9 |
| Black | Rene | Bullet F54, men | 2 |
| Black | Rene | Javelin F54, men | 7 |
| carpenter | George | Bullet F54, men | 1 |
| carpenter | George | Discus F54, men | 8 |
| Wliszczak | Dennis | High jump T42 men | 3 |
| CYCLING | | | |
| Dabering | Wolfgang | LC1-4 – Men's 1000m time trial | 30 |
| Dabering | Wolfgang | LC4 – 3km pursuit men | 4 |
| Dabering | Wolfgang | LC4 – Time Trial (Road), Men | 2 |
| Eibeck | Wolfgang | LC1 – 4km pursuit men | 2 |
| Eibeck | Wolfgang | LC1 – Time Trial (Road), Men | 1 |
| Eibeck | Wolfgang | LC1-4 – Men's 1000m time trial | 7 |
| Etzlstorfer | Christoph | HCA – Road Race Men | 3 |
| Etzlstorfer | Christoph | HCA – Men's Time Trial | 1 |
| Kaiblinger | Alfred | LC1-4 – Men's 1000m time trial | 31 |
| Kaiblinger | Alfred | LC2 – 4km pursuit men | 5 |
| Kaiblinger | Alfred | LC2 – Men's Time Trial Road | 13 |
| Short | Michael | CP3/CP4 – Men's 1000m Time Trial | 17 |
| Short | Michael | CP4 – 4km pursuit men | 9 |
| Short | Michael | CP4 – Men's Time Trial (Road) | 6 |
| Mayrhofer | John | HCB-HCC – Road Race Men | 1 |
| Mayrhofer | John | HCB/HCC – Men's Time Trial | 2 |
| Schattauer | Wolfgang | HCA – Road Race Men | 5 |
| Schattauer | Wolfgang | HCA – Men's Time Trial | 4 |
| RIDING | | | |
| Haller | Thomas | Dressage Individual Championship Test – Grade II Open | 15 |
| Haller | Thomas | Dressage Individual Freestyle – Grade II Open | 14 |
| WHEELCHAIR TENNIS | | | |
| Baumgartner | Herbert | single men | 17 |
| Krieghofer | Stefan | single men | 33 |
| Legner | Martin | single men | 5 |
| Legner / Baumgartner | | Double men | 9 |
| Peinsith | Adolf | single men | 33 |
| Peinsith / Krieghofer | | Double men | 17 |
| SHOOT | | | |
| Schnaiter | Hubert | SH1 air pistol, men | 3 |
| Schnaiter | Hubert | SH1 Pistol, Mixed | 6 |
| Schnaiter | Hubert | Sports Pistol SH1, Mixed | 2 |
| Holzner | Walter | Air Rifle Standing SH1, Men | 6 |
| Holzner | Walter | Rifle 3×40 SH1, men | 13 |
| Holzner | Walter | Rifle SH1, Mixed | 32 |
| Cruiser | Oscar | SH1 air pistol, men | 14 |
| Cruiser | Oscar | SH1 Pistol, Mixed | 16 |
| Cruiser | Oscar | Sports Pistol SH1, Mixed | 15 |
| Miller | Werner | SH1 air rifle, mixed | 41 |
| Miller | Werner | Air Rifle Standing SH1, Men | 10 |
| Miller | Werner | Rifle 3×40 SH1, men | 9 |
| Miller | Werner | Rifle SH1, Mixed | 34 |
| SWIMMING | | | |
| Rosenberg | Thomas | 50m breaststroke SB3, men | 6 |
| Rosenberg | Thomas | 150m individual medley SM4, men | 11 |
| Smith | Jane | 100m backstroke S7, women | 6 |
| Smith | Jane | 100m freestyle S7, women | 12 |
| Smith | Jane | 400m freestyle S7, women | 6 |
| TABLE TENNIS | | | |
| Dollmann | Manfred | Individual Class 3 Men | 5 |
| Dollmann/Kramminger/Wolf | | Team Class 3 Men | 5 |
| Fraczyk | Stanislav | Individual Class 9 Men | 1 |
| Fraczyk/Gutdeutsch | | Team Class 9 Men | 2 |
| Good German | Rene | Individual Class 9 Men | 11 |
| Hajek | Rudolf | Individual Class 2, Men | 9 |
| Hajek/Ruep | | Team Class 1-2, Men | 5 |
| Kramminger | Egon | Individual Class 3 Men | 9 |
| Ruep | Hans | Individual Class 2, Men | 9 |
| Wolf | Peter | Individual Class 3 Men | 19 |
| | | | |