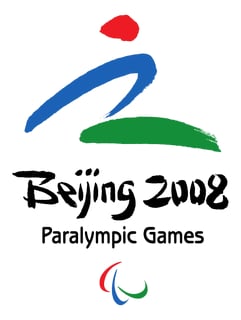 06 – 17 SEPTEMBER 2008
BEIJING / CHINA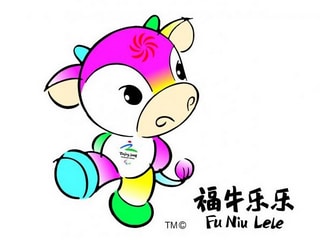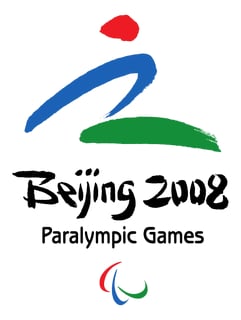 06 – 17 SEPTEMBER 2008
BEIJING / CHINA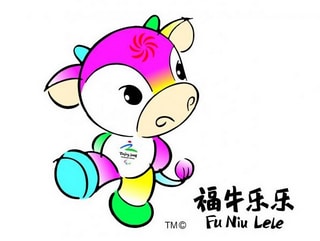 3,951 athletes (1,366 women / 2,585 men) from 146 countries
4,000 media representatives
Rowing for the first time as a Paralympic discipline
Medal count Austria:
38 Austrian athletes (4 women and 34 men)
6 medals (4 gold, 1 silver and 1 bronze)
National ranking: 32nd place
Chef de Mission for Austria:
Slogan:
3,951 athletes from 146 nations participated from September 6 – 17, 2008 in Beijing in the following sports: bocce, archery, soccer 5-a-side, soccer 7-a-side, weightlifting, goalball, judo, track and field, cycling, horseback riding, rowing, wheelchair basketball, wheelchair fencing, wheelchair rugby, wheelchair tennis, shooting, swimming, sailing, sitting volleyball and table tennis. Austria competed in athletics, cycling, equestrian, wheelchair tennis, shooting, swimming, sailing and table tennis.
The XIII Summer Paralympics were held under the motto "One World – One Dream". 279 World and 339 Paralympic records were broken. In addition, 4,000 accredited media representatives reported from the Paralympics in Beijing.
At the opening ceremony, the Paralympic Team Austria was led by cyclist Christoph Etzlstorfer, as flag bearer, into the "Bird's Nest Stadium", which was sold out with over 90,000 spectators. At the closing ceremony, this honor was bestowed upon the track and field athlete Andrea Scherney, who competed in her last Paralympics in Beijing. With her gold medal in the long jump, Andrea Scherney has thus won Paralympic gold three times in her career after Atlanta 1996 (javelin) and Athens 2004 (long jump).
The 38-strong red-white-red team won 6 medals (4x gold, 1x silver, 1x bronze) and ranked 32nd in the medal table. The balance of the Paralympic Games in Beijing is very positive from the point of view of the Austrian Paralympic Committee with four Paralympic winners and a total of six medals won.
The most successful Austrian athlete was track and field athlete Thomas Geierspichler with 1 gold medal and 1 bronze medal.
The closing ceremony of the 2008 Paralympics in Beijing was themed "A Letter to the Future" and included about 2,000 performing artists.
London, the host of the 2012 Paralympic Games, hosted an eight-minute performance and aimed to show how sport can promote the Paralympic movement and positively impact the lives of young people.
For more information, visit: https://www.paralympic.org/beijing-2008
Medal table Paralympics PEKING 2008
| | | | |
| --- | --- | --- | --- |
| 08.09.2008 | Andrea Scherney | Long Jump | Gold |
| 11.09.2008 | Andreas Vevera | Table tennis | Gold |
| 12.09.2008 | Wolfgang Schattauer | Cycling | Gold |
| 12.09.2008 | Wolfgang Eibeck | Cycling | Silver |
| 09/16/2008 | Thomas Geierspichler | LA-800m | Bronze |
| 09/17/2008 | Thomas Geierspichler | LA Marathon | Gold |
Alle Ergebnisse Paralympics PEKING 2008
| | | | |
| --- | --- | --- | --- |
| ATHLETIC | | | |
| Geierspihler | Thomas | 200m – T52 final, men | 5. |
| Geierspihler | Thomas | 400m – T52 lap 1 heat 2, men | 3. |
| Geierspihler | Thomas | 400m – T52 final, men | 4. |
| Geierspihler | Thomas | 800m – T52 lap 1 heat 1 men | 3. |
| Geierspihler | Thomas | 800m – T52 Final Men | 3. |
| Gratt | Andreas | Javelin – F53/54 Final Men | 10. |
| Gratt | Andreas | Ball – F53/54 Final, Men | 5. |
| Linhart | Michael | 100m – T44 Lap 1 Heat 1 Men | 5.* |
| Linhart | Michael | 400m – T44 final, men | 6. |
| Marinkovic | Image | Javelin F11/12 final, men | 4. |
| Matzinger | Guenther | 200m – T46 lap 1 heat 1 men | 3. |
| Matzinger | Guenther | 200m – T46 final, men | 7. |
| Matzinger | Guenther | 400m – T46 lap 1 heat 1 men | 1. |
| Matzinger | Guenther | 400m – T46 final, men | 5. |
| Scherney | Andrea | Long Jump – F44 Final, Women | 1. |
| Scherney | Andrea | 100m – T44 Lap 1 Heat 2 Women | 3. |
| Scherney | Andrea | 100m – T44 final, women | 8. |
| Scherney | Andrea | Discus – F42-46 Final, Women | 6. |
| carpenter | George | Discus – F53/54 final, men | 9. |
| carpenter | George | Ball – F53/54 Final, Men | 6. |
| CYCLING | | | |
| Dabernig | Wolfgang | 1km time trial (LC 3-4), men | 17. |
| Dabernig | Wolfgang | Individual Pursuit (LC 4) Qualification, Men | 7.* |
| Dabernig | Wolfgang | Individual time trial LC4, men | 7. |
| Eibeck | Wolfgang | Individual Pursuit (LC 1) Qualification, Men | 8.* |
| Eibeck | Wolfgang | 1km time trial (LC 1), men | 5. |
| Eibeck | Wolfgang | Individual Time Trial (LC 1), Men | 2. |
| Etzlstorfer | Christoph | Individual time trial HC A, men | 6. |
| Gattringer | Manfred | Individual Pursuit (LC 1) Qualification, Men | 6.* |
| Gattringer | Manfred | 1km time trial (LC 1), men | 8. |
| Gattringer | Manfred | Individual time trial LC1, men | 8. |
| Hohlrieder | Alexander | 1km time trial (LC 3-4), men | 14. |
| Hohlrieder | Alexander | Individual Pursuit (LC 4) Qualification, Men | DNS |
| Hohlrieder | Alexander | Individual time trial LC4, men | 4. |
| Plaster | Manfred | Individual time trial HC B, men | 5. |
| Plaster | Manfred | Individual Road Race HC B, Men | 4. |
| Ruetz | Anita | 500m time trial (LC1-2/CP 4), women | 10. |
| Ruetz | Anita | Individual Pursuit Qualification (CP4), Women | 14.* |
| Ruetz | Anita | Individual time trial LC1/LC2/CP4, women | 9. |
| Schattauer | Wolfgang | Individual time trial HC A, men | 1. |
| Stauffer | Erich | 1km time trial (LC 3-4), men | 18. |
| Stauffer | Erich | Individual Pursuit (LC 3) Qualification, Men | 7.* |
| Stauffer | Erich | Individual time trial LC3, men | 10. |
| Sternath | Elmer | Individual time trial HC C, men | 9. |
| Sternath | Elmer | Individual Road Race HC C, Men | 5. |
| Winterleitner | Helmut | Individual Time Trial CP 1/CP/2, Mixed | 11. |
| RIDING | | | |
| Haller | Thomas | Individual Championship Test – Grade II | 14. |
| Haller | Thomas | Individual Freestyle Test – Grade II | 11. |
| WHEELCHAIR TENNIS | | | |
| Legner | Martin | single men | 1/8 Final |
| Legner/Mossier | (double) | Double men | 1/4 Final |
| Mossier | Thomas | Individuals – Open Round of 64, Men | out |
| Pfundner | Harold | Individuals – Open Round of 64, Men | out |
| SWIMMING | | | |
| Onea | Andreas Daniel | 100m Breaststroke – SB8 Heat 1 Men | 3. |
| Onea | Andreas Daniel | 100m breaststroke – SB8 final, men | 6. |
| Seidling | Thomas | 100m Breaststroke – SB11 Heat 1 Men | 6.* |
| SAILING | | | |
| Reiger | Sven | 3-Person Wedge Boat (Sonar) – Race 1 | 13. |
| Reiger | Sven | 3-Person Wedge Boat (Sonar) – Race 2 | 8. |
| Reiger | Sven | 3-Person Wedge Boat (Sonar) – Race 3 | 11. |
| Reiger | Sven | 3-Person Wedge Boat (Sonar) – Race 4 | 11. |
| Reiger | Sven | 3-Person Wedge Boat (Sonar) – Race 5 | 13. |
| Reiger | Sven | 3-Person Wedge Boat (Sonar) – Race 6 | 12. |
| Reiger | Sven | 3-Person Wedge Boat (Sonar) – Race 7 | 11. |
| Reiger | Sven | 3-Person Wedge Boat (Sonar) – Race 8 | 7. |
| Reiger | Sven | 3-Person Wedge Boat (Sonar) – Race 9 | 12. |
| Reiger | Sven | 3-Person Wedge Boat (Sonar) – Race 10 | 12. |
| Reiger | Sven | 3-Person Wedge Boat (Sonar) – Race 11 | 4. |
| SPORT SHOOTING | | | |
| Schnaiter | Hubert | P1-10m Air Pistol-SH1 Qualification Men | 10.* |
| Schnaiter | Hubert | P3-25m sport pistol-SH1 qualification, mixed | 8. |
| Schnaiter | Hubert | P3-25m Sportpistol-SH1 Finale, Mixed | 8. |
| Schnaiter | Hubert | P4-50m Pistol Frei-SH1 Quali, Mixed | 11.* |
| Doppler | Barbara | P2-10m air pistol-SH1 qualification, women | 14.* |
| Miller | Werner | R1-10m air rifle Stand-SH1, men | 14. |
| Miller | Werner | R7-50m rifle Frei 3×40-SH1 Quali, men | 19.* |
| Miller | Werner | R6-50m rifle Frei-SH1 Quali, Mixed | 35.* |
| TABLE TENNIS | | | |
| Dollmann | Manfred | Individual M3, men | out |
| Fraczyk | Stanislav | Individual M9-10, men | 1/4 final |
| Kramminger | Egon | Individual M3, men | out |
| Mader | Doris | Individual M3, women | out |
| Ruep | Hans | Individual M2, men | out |
| Ruep/Vevera | Hans/Andreas | Team 1/2, men | 4. |
| Starl | Peter | Individual M4-5, men | out |
| Unger | Guenter | Individual M3, men | out |
| Vevera | Andreas | Individual M1, men | 1. |
| | | *not qualified for the final | |